Here's What Is Pushing Up U.S. Home Prices
---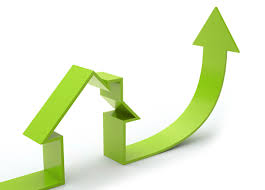 When it comes to buying a home in the U.S., the tide is turning in favor of sellers.
The typical residential property that's up for sale currently stays on the market for 77 days, that's the shortest listing time since the real estate service started tracking the data. While demand for homes is robust, the inventory of available properties has shrunk 9 percent on a year-over-year basis, the biggest drop since 2013. Around the U.S., the hardest markets in which to find a home are Columbus, Ohio, Minneapolis and San Jose, California.
Housing prices are on the rise in many markets. The median price for all homes in May, including new and existing properties, was $252,800, according to the National Association of Realtors. That's up 5.8 percent from the year-earlier period, with home prices rising 63 months in a row. The median home value is $199,200, up 7.4 percent since this time last year.
The median sale price of a new home in May was $345,800, an increase of nearly 17 percent from a year ago, according to federal data released Friday. The average price was $406,400, up 16 percent.
Of the 35 largest metro areas around the country, Seattle, Dallas and Tampa have seen the greatest increase in value over the last year -- each has posted more than double-digit percentage gains.
The number of owner-occupied single-family homes fell by 680,0000 between 2005 and 2016, while the number of rental properties surged by 6.2 million. There isn't enough new housing being built to make up for the shortfall. In fact, housing starts have fallen for three straight months. New homes are often beyond the budgets of entry-level buyers. Rental homes also come up for sale less frequently, tightening inventories further.
Experts say a repeat of the housing bubble is unlikely because mortgages are harder to get and require larger down payments. Buyers who have acquired their properties within the past few years also may be reluctant to sell now that the Federal Reserve has started raising interest rates.
---
Get your free Home Value Report today!
Free instant MLS access with the most up to date homes for sale!
Brent Boltz Keller Williams Realty
BRE# 0194450
4700 Spring St #180, La Mesa, CA 91942
(619) 504-5904